When the 2010 World Cup kicked off, Facebook and Twitter were not public yet and Pinterest was a mere two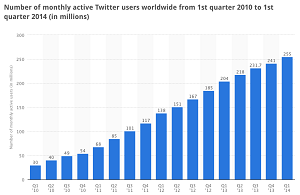 months old social platform and Instagram didn't exist.  Four years later, the biggest scorer of the 2014 World Cup may not be on the field, but rather, inside of the social media channels activating around the event.
Since 2010, Facebook has more than doubled its monthly active users, which now total over 1.2 billion, while Twitter has grown nearly 5x during that same span to over 255 million monthly active users. While both platforms continue to grow year-over-year, there are new opportunities every day for marketers to reach their audience and this year's World Cup presents an optimal platform to do just that.
What is FIFA doing?
The primary destinations for fans will be FIFA.com, m.fifa.com, Facebook and Twitter.
The video content is being housed on FIFA.com as they look to keep their quality content on an area they have most control and also links to their sponsors and other digital platforms. This is also true with the Live Blog from Brazil, with a key element being the embedding of tweets and Facebook posts from fans, stakeholders, media and key influencers.
The big new activation for FIFA is 'Global Stadium'. Their aim is to unite fans from around the world and capture the excitement and spirit of the World Cup. Fans can #JoinIn and are able to;
Follow the match through the Live Blog and stats
See social posts from players, coaches and celebrities and interact with their own friend's posts
Discuss the game as it happens with a worldwide audience
Get involved in a variety of exclusive activities such as winning the actual kick-off ball from that game and voting for their Man of the Match
On Facebook and Twitter, they have stated that their core content aims fall under 5 sub-headings; Football, Fans, Facilitation, Fun and FIFA. In simple terms, covering everything on the pitch; engaging fans in fun, interactive contests and asking them to share their content; showcasing some of FIFA's core programmes and initiatives; and facilitating the journey of fans and media, by providing regular, up-to-date, relevant information.
Twelve pages are now live, with the FIFA World Cup page now having over 19 million fans worldwide. The content is image driven. Photos, videos, trivia questions, exclusive interviews, fan promotions in the FIFA online store, news on the launch of ticket sales phases, and the promotion of fun fan games, such as the Online Panini album aim to provide a variety of content.
In April 2014, eight out of the ten fastest-growing sports pages on Facebook belonged to FIFA, and at the beginning of May 2014, FIFA merged its two World Cup Facebook pages – one historic; one focused on Brazil 2014, to create one central World Cup hub.
On Twitter, there are accounts for FIFA (@fifacom) and @FIFAWorldCup in six languages, for the FIFA President and the FIFA Secretary General, as well as accounts for the FIFA Media Department (@FIFAMedia) and women's football (@FIFAWWC).
The platform provides a personal and direct communication channel with fans, media, stakeholders and key influencers. Hashtags are used for FIFA's tournaments to create discussion topics, regular interactive daily polls/Q&As are posted to ask fans for their views on the 'key topics of the day' and wherever possible, breaking news is posted to ensure FIFA's authentic message is relayed in real-time.
FIFA Digital will be using the following hashtags in six languages: #WorldCup, #Joinin, #GlobalStadium while each match will have its own hashtag too.
What is Twitter doing?
Twitter has released a World Cup video encouraging consumers to use the service during the upcoming games: Twitter has also updated its iOS app with a feature called "World Cup Timelines", which allows users to see relevant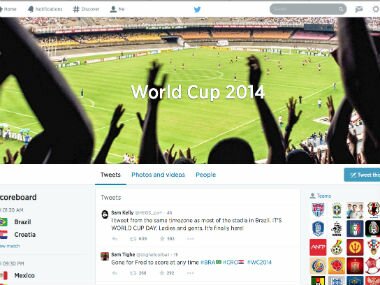 tweets about all the games during the month-long 2014 FIFA World Cup.
The new features mirror changes Twitter has made to its web interface, which allow users to follow Twitter timelines for specific games featuring tweets by relevant fans, journalists, analysts and more. A couple days ago, Twitter also re-introduced "Hashflags", which automatically insert flags from the countries participating in the World Cup when certain hashtags, like "#BRA" for Brazil, are used.
Twitter also rolled out Timelines for individual teams, including lists of each countries' players and match scorecards that update scores live.
What is Facebook doing?
Facebook launched Trending World Cup, a dedicated hub for fans on Facebook to follow the tournament as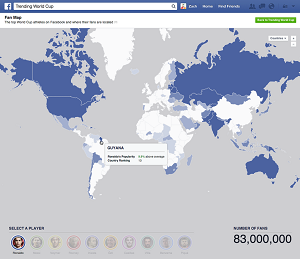 it unfolds.
Trending World Cup on Facebook includes:
The latest scores and highlights from the matches
A special feed with real-time posts from friends and updates from relevant players and teams
An interactive map that shows where fans of some of the top players are located around the world
In addition, people can share the specific match they're watching during the World Cup — just by tapping the smiley icon before they share a post and select "watching."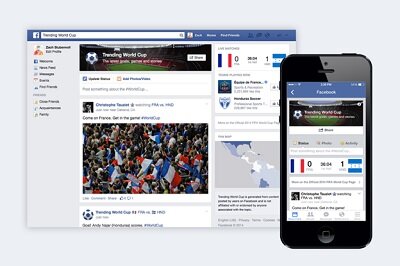 Over the course of the tournament, people can use 
Trending World Cup
 on Facebook on desktop and on their smartphone or feature phone. They can get there by visiting
www.facebook.com/worldcup
, or by clicking on "World Cup" in the 
Trending
 section on the right-hand side of their News Feed.
People also might see posts from the Facebook Ref — Facebook's 'official' official of the tournament. Like this Page at www.facebook.com/FacebookRef for colorful commentary and updates about the matches.
What is Google doing?
Google is going for the goal in its coverage of this year's FIFA World Cup.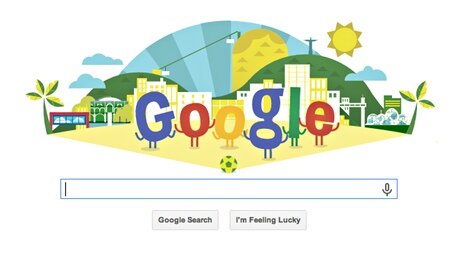 Google has celebrated the start of the World Cup in Brazil with its latest Google doodle on its homepage.
Google also launched a World Cup website — as a part of its Google Trends section — on Wednesday to make it easier for fans to get the latest stats, player news and live game updates in one spot. Users who now search for "World Cup" in Google will see this data pop up at the top of the results page.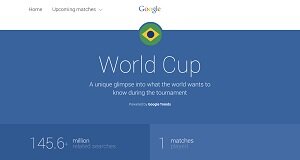 The company is providing users with instant updates and trending topics in a fashion similar to Twitter. Competing countries' questions, favorite players and even emotions will be front and center.
In addition, Google Now users will have the ability to see match lineups and other information without even having to search.
The web giant previously added 
Google Street View
 coverage for fans to see inside and outside the 12 stadiums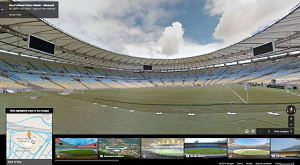 where the games will take place. Those who can't make it to the World Cup can take a virtual tour of the ironic 
painted streets
 of the region and other notable landmarks.
What about smartphone applications?
The best World Cup iOS apps to download are: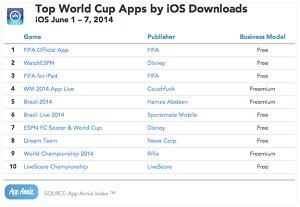 The best World Cup Google Play apps to download are: