Social Media Middle Eastern boutique social media agency and consultancy, Social4ce compiled in the below infographic the data related to the social media conversations around the World Cup that occurred in the MENA region during the past month, and the results were pretty interesting.
A total of 258,172 conversations on social media were analysed to come up with the following insights:
- 63% of the conversations were in Arabic
- Saudi Arabia has the highest share of voice with 35,4% of social media conversations around the World Cup happening in the Kingdom.
- Almost half of the conversations happened on Twitter (44%)
- The most discussed topic was the one related to the different teams. People were even discussing the players hair cuts.
- 36% of the conversation about the World Cup's winners prediction favourited Brazil.

Global Web Index released a very interesting audience report which places a spotlight on those who say they'll be tuning in, examining the digital behaviors and demographic profile of this audience.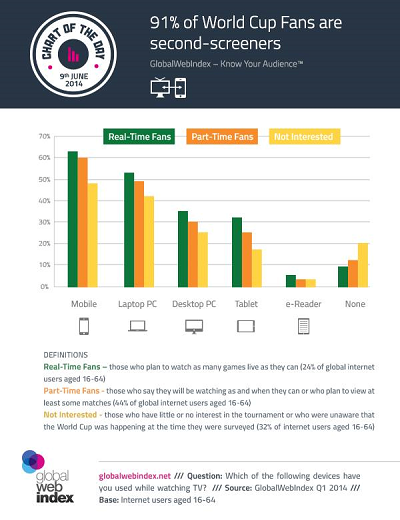 Drawing on their research program across 32 countries and nearly 90% of the global internet audience, they looked specifically at:
The demographic breakdown of World Cup fans
Their attitudes, interests and digital behaviors
Usage of the mobile internet
The ways in which World Cup viewers say they interact with brands
Their favored social networking platforms and activities
To download the report for free
click here
.