The growing renewable energy investment opportunity in countries across the Middle East and North Africa (MENA) is garnering attention by international investors who will be at January's World Future Energy Summit (WFES) to explore project opportunities. Through Masdar, Abu Dhabi's renewable energy company and the host of WFES, the UAE is quickly becoming a leading renewable energy player regionally and globally.
MENA countries are planning to install up to 37 gigawatts of renewable energy projects within the next 10 years, and several major initiatives by the UAE are helping to realize this goal.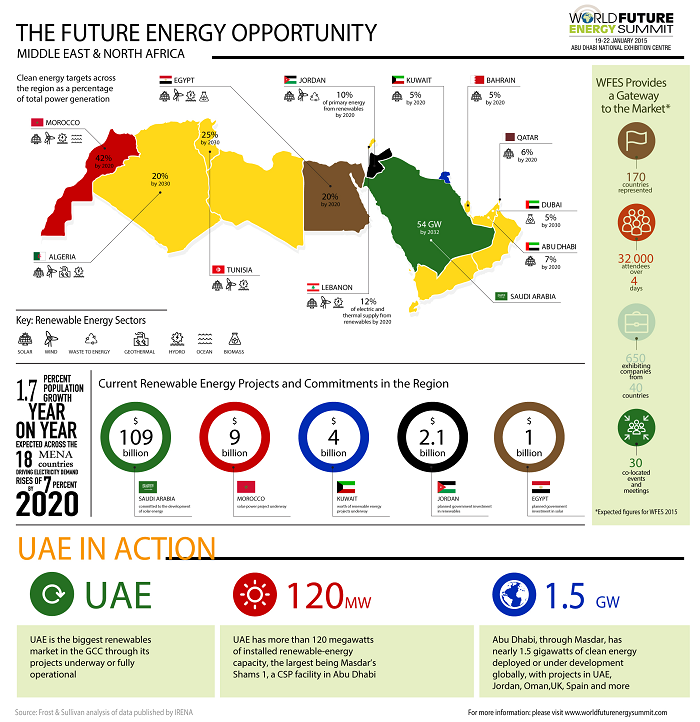 The UAE is already the largest renewables market in the Gulf Cooperation Council (GCC) region, with plans to grow. Abu Dhabi intends to source 7 percent of its domestic power needs from renewables by 2020. Overall, the UAE has more than 120 megawatts of installed renewable energy capacity, the largest project being Masdar's Shams 1, a 100 megawatt concentrated solar power (CSP) facility in Abu Dhabi. Masdar's renewable energy projects extend around the world, with nearly 1.5 gigawatts of clean power in operation or under development in Jordan, Oman, the UK, and Spain, among other countries.
Other major renewables commitments in the MENA region include a $9 billion solar power project underway in Morocco; $2.1 billion worth of clean energy investments planned in Jordan, and $1 billion of investments planned for solar power in Egypt.