Miele Professional, the industry focused arm of the German manufacturer of high-end domestic appliances and fitted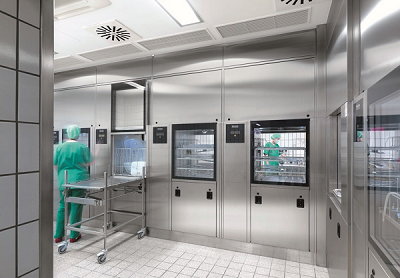 kitchens, will showcase its latest additions to medical technology at Arab Health 2015, as hospitals in the Middle East demand more advanced methods of reprocessing medical equipment to reduce waste and cut equipment costs.
According to EcoMENA, the UAE generates an estimated 21.5 tons of medical waste every day, (Abu Dhabi alone accounts for 12 tons) or put another way, approximately 10 kilos per hospital bed. Saudi Arabia generates 80 tons per day, Kuwait 12 tons and Bahrain 7 tons – in total the GCC countries combined generate over 150 tons of medical waste daily.
"Dubai sent a total of 2.6 million tons of waste to landfill in 2013. What compounds the situation is that 15-25% of that is probably medical waste, containing hazardous materials such as infectious waste, contaminated with body fluids including disposal medical devices, which can present a health risk.
"Dubai has set itself a challenging target of zero landfill waste by 2030, so it will need to drive its recycling culture to cut down proportionately on medical waste as well," said Babak Rashnavadi, Head of Miele Professional.
Of course generating waste is also costly. Further research in the US has found that recycling and reusing medical equipment wherever possible can generate savings between US$100,000 to US$1.5 million in just 12 months, not to mention the environmental benefits.
Research by Johns Hopkins Medicine has also highlighted the multi-million dollar savings hospitals could make by cleaning, recycling and reusing medical equipment instead of opting for disposable equipment. In many parts of the developed world, medical waste is a significant contributor to landfill, second only to the food industry in the gross amount of waste created.
"In operating rooms, some items that are never even used are thrown away. Single-use devices that are taken out of their packaging have to be disposed of because they might be contaminated. Resterilisation and retesting could decrease the amount of needless waste from hospitals. Indeed a recent study by the U.S. Government Accountability Office concluded that reprocessed devices do not present an increased health risk over new devices.
"Wider adoption of the practice of recycling medical equipment — including laparoscopic ports and durable cutting tools typically discarded once used could save hospitals throughout the region, hundreds of millions of dollars annually as well as reducing waste," commented Rashnavadi.
Miele Professional will showcase a range of reprocessing products, at this year's Arab Health exhibition - which opens on 26 January at Dubai International Convention & Exhibition Centre, including washer-disinfectors, large steam sterilisers and chamber washer disinfectors. Features such as short process times, service-friendly designs, intuitive operation, reduced water and detergent consumption, intensive cleaning and short cycle times, underscore the new range's sustainability and efficiency message.
"The new generation washer-disinfectors are safer and more powerful, and use an innovative water circulation system that saves water and electricity. A newly designed chamber offers the ultimate in hygiene and increases reprocessing capacity by up to 50% compared with the previous model.
Visit Miele Professional at Stand No. Z3L50, German Pavilion, Zabeel Hall. Arab Health takes place 26-29 January.