Are you looking to enter the Digital space and don't know where to start. Tfour.me can help you with your digital strategy.  We can help you enhance your digital capabilities by offering the following digital services: -

Tfour.me is devoted to spreading knowledge and represent data through visual communication. Infographics are the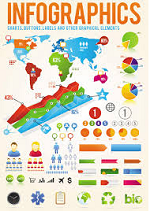 smart new digital way of communicating ideas, data and knowledge – quickly and efficiently. They explain often complex information using graphics and highly distilled copy. Great infographics get straight to the point and capture attention using graphs, charts, icons, symbols and stylish illustrations. We are based in Dubai and can deliver quality infographics at affordable prices.
We have done a variety of infographics for clients in the region and some of our work has been published in international online publications like Venturebeat and PopSci.
Below are some of the infographics done by us: -
Consumers want to feel connected to your business; they want to relate to and be a part of your story, a story told by the content you share. With over 1000+ unique blog posts written since 2012, we can provide the content needed to grow your online business.
How do we do great content?
Analyze
- We analyze your industry to align your content with the interests of your target segment.
Plan
- We plan your content depending on where your audience spends their time online.
Create
- Next, we create quality content that is relevant and useful to your audience.
Reach
-Finally, we increase the reach of your brand by spreading your content online. So what are you waiting for?
Contact Us Now