EY has recently released a survey report for adoption of Clean Tech in Middle East and North Africa region. Across the GCC, the Levant and North Africa, insufficient government policy frameworks and regulations continue to be the largest barrier. This barrier has continued to grow in importance over the past few years. Price competitiveness remains the second most important barrier in the GCC at 25%, the Levant at 19% and in North Africa at 15%. The sharp decline in cleantech prices over the past few years is not considered significant in the MENA Region as cleantech is still considered to be too costly to deploy. However, there are clear changes in the priority and weightage given to the other barriers to cleantech development.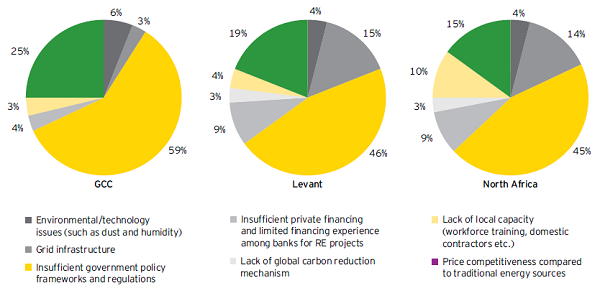 Poor grid infrastructure is an insignificant barrier in the GCC, while it is the third most important in the Levant and North Africa. Similarly, insufficient private financing and limited financing experience among banks for cleantech projects is the fourth most important barrier in the Levant and North Africa while it is insignificant in the GCC. Lack of financing is considered a key barrier to cleantech development in the Levant. North Africa also suffers from the lack of local capacity (workforce training, domestic contractors etc.), which was rated at 10% and was much higher than that for the GCC.
The 2014 MENA Cleantech Survey gauges the sentiment of senior industry executives regarding the cleantech industry and renewable energy implementation in the Middle East and North Africa Region.
The survey identifies the most important market drivers, prospects for growth and key issues, provides an additional voice of the market and articulates the attractiveness of technologies among different countries in the region.