US photovoltaic company First Solar, Inc. (Nasdaq: FSLR), which plans to build one of the region's biggest solar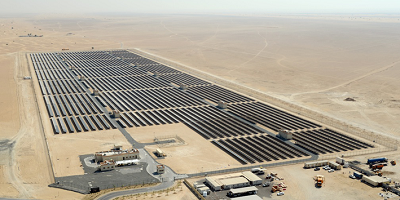 power plants in southern Jordan, said recent major oil price fluctuations mean it's vital for states in the region to continue diversifying their energy sources.
First Solar had announced in Augusr 2014 that it has signed an agreement to provide engineering, procurement and construction (EPC) services for the 52.5 megawatt (MWAC) Shams Ma'an photovoltaic (PV) power plant, in the Hashemite Kingdom of Jordan. The company has also finalized a long-term operations and maintenance (O&M) contract for the project.
Last year in September Jordan, signed up with Israel a deal worth $15 billion to supply natural gas as it has lost $5.2 billion from interrupted Egyptian gas supply. The plummeting of oil prices below $63 a barrel can ease the burden on Jordan's fiscal deficit.
Ahmed Nada, First Solar's vice-president for the Middle East, said any prudent country will continue to build an energy mix portfolio that includes renewables. "You cannot predict the future. Who could have imagined a 40 percent drop in oil prices in less than six months? So there's a volatility that continues in the energy sector. Who knows, maybe next year the price of oil will go back to $120," he said. "I believe that any country whose strategy is to have a diversified portfolio of energy will always find good reasons why they should continue to invest in solar in particular, and renewable in general."
Ahmad Nada, explained that the company is a global provider of comprehensive photovoltaic (PV) solar systems which is currently taking part in the Shams Maan Power Plant.
The plant provides engineering, procurement and construction services for the 52.5 megawatt solar-run power plant in the southern governorate.
"We see valuable economic benefits in investing in Jordan," Nada said, adding that First Solar is going to bid for a similar project in the governorate of Mafraq where bidding would open on January 20 of next year.