The Cleantech industry saw a sudden growth in confidence for water technologies in 2014, according to EY's 4th MENA Cleantech Survey Report that was launched at the World Future Energy Summit in Abu Dhabi. The survey gauges the sentiment of senior industry executives on renewable energy implementation in the region.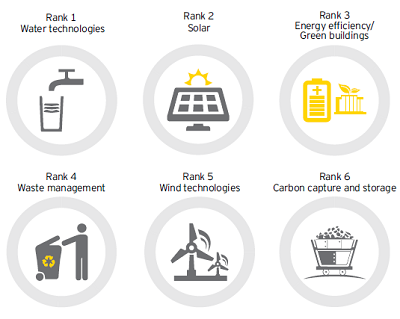 Christian von Tschirschky, MENA Power and Utilities Leader, EY, says:"A significant shift in the expectations of industry executives occurred during 2014 with regard to the growth of clean technologies in the MENA region over the next five years. Innovation in water technologies is helping drive energy efficiency in the region, especially given the mostly hot, arid climate. It's interesting to note that water was mentioned less frequently as a growth area over the last three years, yet now it has become the leader in market potential over the next five years. Prospects for investment in water infrastructure in 2014 have also improved markedly over previous years."
Solar renewable technology was ranked second in terms of market potential over the next five years, although it was ranked first place over the past three years . Confidence in solar had been growing based on the announcements of new projects and policies in the region, owing to its low pricing and interest rates, and abundant solar resources. Following water and solar in the survey results are green buildings and energy efficiency. These technologies may rise in importance over the coming years, given their highest return on investment and fastest payoff as well as the high levels of energy consumption in several MENA countries.